Youth vs MPs- As it happened
By Ben Guerin, Victoria University student (@bjhguerin)
It's not often young people are able to debate with elected representatives of their country the issues that directly affect them. But this is what happened at the UNICEF NZ Youth vs MPs Election debate on July 22.
The debate saw six young people and six members of Parliament in two separate moots. Each moot addressed a different topic, the first "New Zealand is a great place to be a child", the second "aid is the best way to combat global poverty".
National MP Simon O'Connor opened the first debate by claiming it was "so obvious" New Zealand was great for children. O'Connor showed how engaged he was with youth by quoting Aristotle. He then listed the billions of dollars that government puts towards health and education.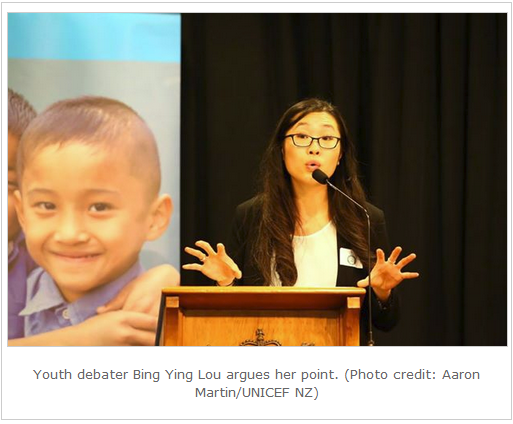 The negating side opened with Bing Ying Lou who reminded the audience that many children live in poverty, with one in six missing out on basic necessities. She added that we are at the bottom of the OECD for child well-being, arguing much more was needed to ensure our country was great for every child.
Labour MP Andrew Little showed his poetic side, opening with: "in a world gripped by conflict, we are an oasis of peace". The more sober side of his argument saw him allude to Lorde, Eleanor Catton and "YouTube channel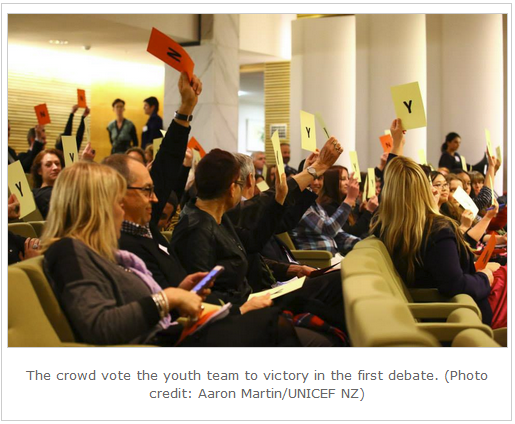 stars", of whom he was unable to name any, as evidence New Zealand was a place where young people thrive. He quipped that "if we just look past some child poverty, a little bit of family violence, this is a great place to be a child."
UNICEF NZ Youth Ambassador Ruby Sands argued children were in real need, and at risk of being forgotten. She pointed to research from Max Rashbrooke and the Children's Commission.
Green Party co-leader Metiria Turei concluded the debate with satire, fast-forwarding a few years into a future where we had "eliminated child poverty". It was a timely reminder about the real issues facing New Zealand children.
This sentiment was echoed by Rāwinia Thompson. After commending the MPs for their rhetoric in painting such a rose-tinted picture, she reminded them it did not reflect reality. She argued it was simply not enough to pat ourselves on the back for being better off than war-torn countries. Instead we should take issues seriously and stop ignoring those in society worse off than ourselves. She said that quoting averages runs the risk of missing the many children who sit outside of those averages. With this the audience voted, overwhelmingly awarding the debate to the youth team.
The second debate forced the speakers to look abroad and debate whether aid is the best method to combat global poverty. Quan Khanh Nguyen introduced the youth perspective by outlining different kinds of aid. He said overseas aid provided substantial support for countries to achieve MDGs (Millennium Development Goals).
Green MP Jan Logie took the stage to introduce the negative case for the MPs. Her three minutes were spent delivering sassy remarks about her team members and ended before she was able to make any substantive points. Minus 10 points for organisation, plus 100 points for entertainment.
For the youth team Holly Walmsley and Victoria Rea argued the flexible nature of aid meant it was a powerful tool for change. Meanwhile, NZ First MP Tracey Martin and National MP John Hayes listed times aid was not effective as evidence it was not worth the effort. The MPs seemed fixated on aid as just being money, rather than other in-kind support and development assistance. Again the audience voted, awarding the youth team with the win.
The quality and passion in both debates made the event thought provoking for all. If you ignored the grey hair, you could be forgiven for forgetting which team were the youth and which the MPs. Ably chaired by veteran political commentator, Linda Clark, this UNICEF NZ event was a powerful way for young people to have their voices heard and engage with their elected representatives.
Watch the debate in full here:
The views expressed in this blog and in the debate are not necessarily shared by UNICEF NZ