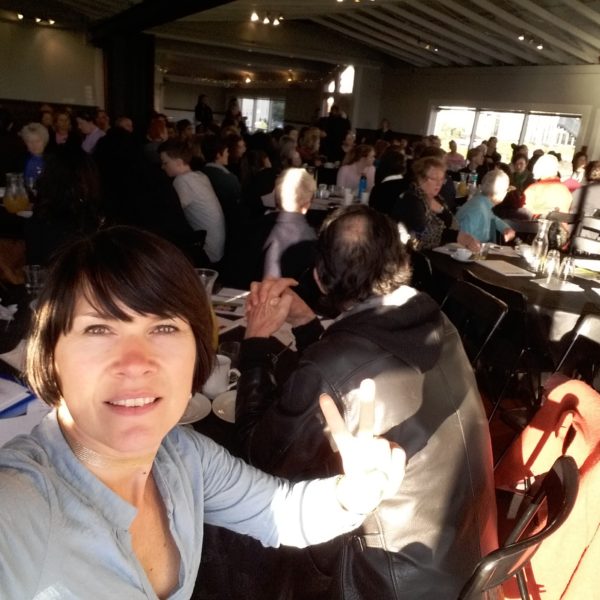 Here's me all hopeful for homeless people at the Welly CPAG/PHA Post Budget Breakfast
We all know in our hearts every newborn child needs to be brought home from the hospital to a safe, warm, dry household. It's their right.
If that's not happening, our leaders have to look at how they've failed to protect these children. What set of policies, and not others, have caused housing crisis in New Zealand for at least 41,000 people, 51% of them under 25?
Housing is not a stock market.
When there are thousands of homeless children and young people, the first thing our leaders should do is put a stop to speculation in housing, and not be seen to be among the speculators. One clear way to do this is to introduce a simple, severe speculator (or "Capital Gains") tax on every second home owned. Sadly, this was not one of the "simplifying" tax measures introduced in Budget 2017.
It's sad to consider all that instant tax revenue government could be making, taxing only the wealthy, (forcing many out of the market who shouldn't be there) with just one righteous measure. That money could be spent on improving the existing social housing stock in the state's care.
That's what you call a great social investment.
Young people in housing crisis are runaways or renters: they are on no income, low income or a benefit; some are in tertiary education. Many are having babies of their own. A warm, dry, affordable space to lie down safely each night shouldn't be too much for these young people to ask. But sadly, speculators do not make good landlords. Around 65-70% of those in New Zealand's low-income quintiles report problems with damp, mouldy, cold or over-crowded homes. The result for babies in these households is high asthma and respiratory illness and the spread of communicable diseases that shouldn't even exist in a first world country like New Zealand.
Budget low-down:
This budget 2017, the government promised $100 million in new capital funding to allow vacant or under-utilised crown land be freed up for additional housing developments. Minister of Finance Stephen Joyce announced the government is committed to building 34,000 new houses in Auckland over the next 10 years, and the new capital injection of crown land will contribute 2700 of these houses. For the rest of New Zealand in housing crisis, there's $16.5 million to be spent over four years to expand Housing First into areas of high need across the country.
It would be great to see this plan of action – increasing the housing stock by thousands of houses in Auckland – if this was the Auckland City Council's Budget 2017. But for the whole of New Zealand, Budget 2017 promises no systemic change. (But interestingly, within the social investment package there is $18 million allocated to helping women with low incomes have better access to contraception. I think the logic working here is that if government fails to ensure every child's right to a safe, warm, dry affordable home, then it can try to ensure low income children are not born at all. Is that really what government is calling a great social investment?)
There is good news: increases in the accommodation supplement mean renting a home will be that little bit more affordable for New Zealanders on low or no incomes. In New Zealand 42% of sole-parent beneficiary households and over half the Accommodation Supplement receivers say they spend more than half their income on the rent alone. When you live your life with so little discretionary cash, any extra expense – such as your child's prescription medicines or visits to specialists- can really rock the financial boat for families. So these income measures for the poorest New Zealanders will be warmly welcomed inside their homes.
It's a shame their landlords are not being forced to warm these homes for real.