Blog Action Day- Impact of inequality on children
Today marks Blog Action Day. Blog Action Day is a free annual event that aims to unite the world's bloggers about the same issue on the same day. We're joining 1330 participants from 111 countries today to write about inequality.
By Sarah Morris, UNICEF NZ International Advocacy Manager
Poverty is a result of inequality and has lasting impacts on children which bring significant economic and social costs to us all.
Why shouldn't all children have equal chances when it comes to good health, life-long learning, and opportunities to contribute to society?
All children have the right to a standard of living that enables their development, allows them to play, protects them from harm, and supports full participation in society. These rights are set out in the UN Convention on the Rights of the Child.
However, growth in inequality over the past 30 years has reduced the ability of children in New Zealand to access their rights. It's clear that successive governments have neglected the rights and interests of children.
As inequality has increased, so too has the number of children living in poverty. In 1982, 14 per cent of Kiwi kids lived in relative poverty and by 1994 it was a massive 35 per cent. Now, 25 per cent – or one in four – live in poverty.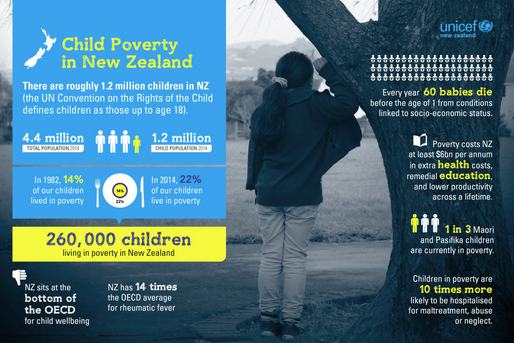 Links between income inequality and poor outcomes for children are not only a New Zealand phenomenon. The UNICEF index of child wellbeing in rich countries shows a clear link between high income inequality and poor child well-being.
This correlation is referenced in The Spirit Level by Richard Wilkinson and Kate Pickett. They conclude that it is inequalities within societies that determine social outcomes, much more so than economic growth or measurements of GDP. A 2011 study for UNICEF, which reviews the impact of income disparities, goes even further. It shows how inequality slows economic growth, results in health and social problems and generates political instability.
UNICEF's 'equity agenda' reflects this thinking. The 2011 report Narrowing the Gaps to Meet the Goals describes the equity-focused approach which UNICEF has taken in recent years to reach those children who are the most disadvantaged and marginalised.
UNICEF's international research centre in Italy concludes that Government policy has the single biggest impact on poverty and inequality.
As non-voters, reliant on the adults around them, children have the least power to change their circumstances. We have allowed governments in New Zealand to ignore the needs of children to the extent that children are now the population group most likely to live in poverty – and yet they are the population group we can least afford to leave in poverty.
Every year that we leave 25 per cent of our children in poverty costs another $8 billion in health costs, remedial education and reduced productivity. Add another $2 billion for the cost of child maltreatment and it means we're spending at least five per cent of our Gross Domestic Product on picking up the cost of policies and a society that are failing our children.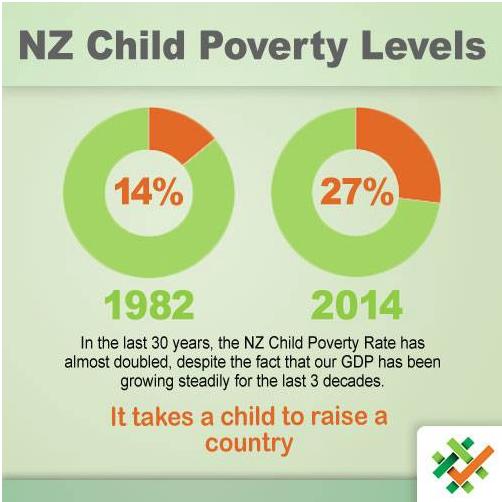 Policy creates the conditions for social and economic wellbeing so that parents are educated and well-supported, there are a range of jobs that pay a decent wage, housing and electricity are affordable, quality childcare is available, and communities are connected and child-friendly. All of this is possible and essential.
Treasury figures show that ten years from now, there will be just one new person entering the labour-force for every one person retiring. Currently we have 2.5 new workers for each retiree. Of course, many older people continue to work and volunteer in their communities, but we are also highly dependent on children and young people to be healthy, educated and productive.
Inequality brings high social and economic costs– including social distance or an empathy gap – that seem to have rendered children and families who live in deprivation largely invisible to decision-makers.
Next year the Millennium Development Goals will be replaced with a new set ofSustainable Development Goals. The MDGs were a set of goals that developing countries were expected to reach with the help of rich countries. The SDGs are universal which means that NZ will need to set targets and monitor progress against them.
The fact that one SDG currently being debated by UN Member States is focused solely on reducing inequality is evidence there is political will to address the impacts of widening gaps between the haves, who hold 1 per cent of the world's wealth, and the have nots – most of them children.
We know what causes inequality and what measures can be taken to reduce it in order to improve outcomes for children. Now it's up to our decision makers, and the people of New Zealand who employ them, to make it happen.
Watch our Domestic Advocacy Manager, Deborah Morris-Travers, talk about the growth of child poverty in New Zealand: